Updated: 9 February 2023
The Cybersecurity and Infrastructure Security Agency (CISA) of the United States has released a recovery script for organizations that have fallen victim to ESXiArgs ransomware. The ESXiArgs ransomware encrypts configuration files on vulnerable ESXi servers, potentially rendering virtual machines (VMs) unusable.
Organisations impacted by ESXiArgs are recommended to evaluate the script and guidance provided in the accompanying README file to determine if it is fit for attempting to recover access to files in their environment.
Organizations can access the recovery script here: https://github.com/cisagov/ESXiArgs-Recover
——————————————————————————————————————–
Date of Issue: 06 February 2023
Severity Level: High
Description:
Cybersecurity researchers have identified a new ransomware campaign actively targeting VMware ESXi Servers around the world. Approximately 3200 servers VMware ESXi servers worldwide have been compromised in this ransomware campaign. The ransomware dubbed as "ESXiArgs" is being deployed by exploiting a two-year-old remote code execution vulnerability. Tracked as CVE-2021-21974, the vulnerability is caused by a heap overflow issue in the OpenSLP service and this is being exploited by unauthenticated threat actors in low-complexity attacks. A patch for this vulnerability existed since 23 February 2021. Since many servers were not upgraded, they were vulnerable and could easily be exploited by the ransomware.
CERT-MU advises users to watch out for the vulnerability and apply workarounds accordingly.
Systems Affected:
ESXi versions 7.x prior to ESXi70U1c-17325551
ESXi versions 6.7.x prior to ESXi670-202102401-SG
ESXi versions 6.5.x prior to ESXi650-202102101-SG
Technical Information
The ransomware encrypts files with the .vmxf, .vmx, .vmdk, .vmsd, and .nvram extensions on compromised ESXi servers and creates a .args file for each encrypted document with metadata.
Victims have also found ransom notes named "ransom.html" and "How to Restore Your Files.html" on locked systems.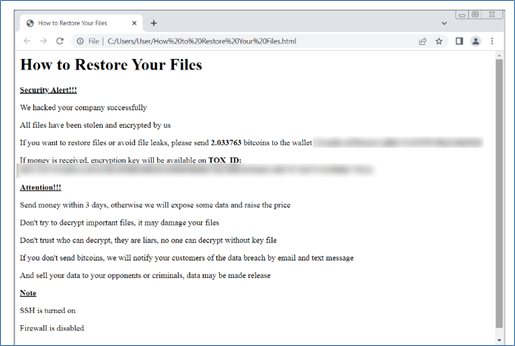 Workarounds
The following workarounds are recommended:
To block incoming attacks, admins are advised to disable the vulnerable Service Location Protocol (SLP) service on ESXi hypervisors that have not yet been updated.
Report Cyber Incidents
Report cyber security incident on the Mauritian Cybercrime Online Reporting System (MAUCORS – http://maucors.govmu.org/)
Contact Information
Computer Emergency Response Team of Mauritius (CERT-MU)
Ministry of Information Technology, Communication and Innovation
Hotline No: (+230) 800 2378
Gen. Info. : contact@cert.govmu.org
Incident: incident@cert.govmu.org
Website: http://cert-mu.govmu.org
MAUCORS: http://maucors.govmu.org